Monday, October 15, 2012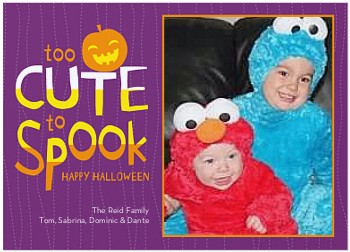 Cute To Spook Halloween Card

Monday, May 7, 2012
Our second son was born on 5/7/12 at 11:29AM weighing in at 10lbs and 1oz and 20.5 in long. Dominic loves his new baby bro, he thinks he is hilarious. Dominic cracks up when Dante makes any little sound, sneezes, etc... he can't wait to play with him.
Thanks to everyone for your well wishes and prayers. We are doing good so far! The second time around was definitely easier for me. I started feeling Dante coming at like 2 or 3 in the morning that Monday. At around 5:00AM we called to have Dr. Lambert paged and my parents to come over to take care of Dominic. We arrived at the hospital at like 6:15AM. I was already 5 centimeters dilated at that point. I only had to push for about 20 minutes and then before we knew it Dante was here! We couldn't be more thrilled and feel very blessed.
He is now already 2 weeks and 4 days old & doing great so far. He had his newborn visit Monday, May 14th and was 80th percentile for head size and 90th percentile for weight at 10 lbs 4 oz and height at 20.5in.
Thanks again Dr. Lambert, this is becoming almost an annual tradition!We'll see how it goes now... I keep saying one at a time to everyone! ;-)
I hope everyone had a great Mother's Day. Dante was a great gift for me. Dante got to meet his cousin's Sam and Sean on Mother's Day. Dominic had more fun with his cousin's than Dante, but I have a feeling Dante will be holding his own very soon. I mean check out Sean already!
Dominic taking Dante for a walk!
Who is this big boy? !Sean!
More fun at home... Dante's first weeks.
Brooke meets Dante and plays with Dominic.
Maddie and Kristen came over to meet Dante and play with Dominic. Welcome Kristen Myla! Born this same week! More pics of Kristen and Maddie having fun with our boys to come... we had a little trouble getting together being we had our babies the same week!
Kaitlyn and Arianna came to visit too! All the ladies came to meet Dante and to see Dominic.
Posted by Sabrina R. Reid at 2:47 PM
1 comments